In an industry dominated by for-profit leviathans like University of Phoenix and Capella University, among others, nonprofit colleges have a lot of ground to make up in the market for online classes. And they are.
Nonprofit, including public, colleges and universities bring to the online market some advantages that have fueled their success, so far: brand strength (you had heard of, say, the University of Nebraska before you saw their pop-up ad on Google); unquestionable accreditation (a degree from Harvard is a degree from Harvard, even if many of the credits were taken online); and relatively inexpensive credits.
The results of new research from the Parthenon Group, a strategic consulting firm, published last fall, confirmed that online for-profits had better watch their backs. Parthenon has conducted previous studies with favorable outcomes for the for-profit sector. However, in its latest report, entitled "Are the Sleeping Giants Awake? Non-Profit Universities Enter Online Education at Scale," nonprofits now have an edge over their for-profit competition. The study was based in part on July survey of 1,200 students who attend fully online programs. It found student profiles that were nearly identical at nonprofit and for-profit institutions, with similar ages, incomes and attendance patterns.
A graphic from Inside Higher Ed, which illustrates the report's results, shows that nonprofits have a lot of ground to make up. Parthenon's study found that only 11 nonprofit colleges enrolled more than 10,000 online-only students last year, with a total joint enrollment of 280,000. Included on the list are Liberty University, Rio Salado College and Excelsior College. In comparison, the twelve largest for-profit colleges enroll 818,000 online-only students.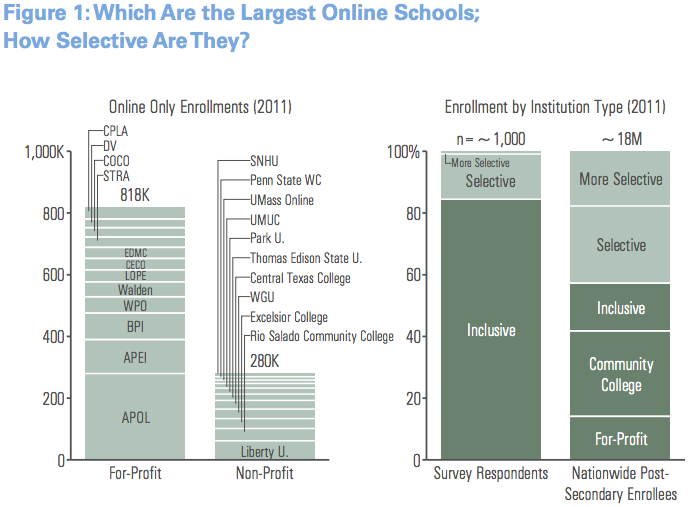 The report's author noted that many nonprofit colleges had not yet even begun to tap into their potential. Public universities, even less selective ones, have considerable brand appeal in their regions. Very few, however, have scaled up their marketing efforts to reach potential online-only students.
The marketing done by for-profit colleges is much more conventional and along the lines typical of business marketing. They use paid advertising and call centers to attract and recruit students. Most nonprofit schools, on the other hand, simply rely on word of mouth or a page embedded in the school's site to get the attention of prospective enrollees.
According to Inside Higher Ed,
A few rapidly expanding online colleges will emerge from the pack, according to the study, by reaching a critical mass of revenue and brand awareness, which in turn can be used to attract faculty, improve the student experience and help develop relationships with employers. The key will be to grow fast while maintaining academic quality.
Geographic location will also become a major factor in students' decisions about which online colleges to enroll in. Historically, for-profit colleges could rely on their sizable marketing efforts and deep pockets to attract students from a nationwide pool. The lack of choice in the past, along with little to differentiate between the online players in terms of quality, the school with the most and flashiest marketing tended to get most of the online students. The study also points out that online students were not particularly good at doing their research when selecting an online school.
According to the study, more than half of online-only students apply to only one online school, and fewer than 20 percent apply to three or more schools. The study's author feels that the addition of competition from nonprofit entrants to the market will lead to greater sophistication among educational consumers. Students are willing to pay more for a strong brand. The survey found that students enrolled at selective institutions said they would pay almost $5,000 more in annual tuition for an online program than would their peers at open-access institutions. Strong regional brands, such as the University of Nebraska, a powerful entrant into the online market, could pull considerable numbers of students away from the Capellas and Kaplans of the Web.
Nonprofits who have entered the online education market are already eating away at the for-profit institution's bottom lines.  Inside Higher Ed Reports that
Most for-profits charge $400 to $600 per credit, the study found. But several nonprofits charge less than $400. Tuition at Rio Salado, for example, ranges from $76 per credit for residents of Maricopa County (the college's home district), up to $317 per credit for some out-of state students.
A handful of selective nonprofit colleges might be able to get away with charging more than for-profits because of their strong brands, especially as most for-profits schools continue to founder in the wake of the recession and the latest round of federal regulatory crackdowns. As enrollment continues to decline at the national online chains, competition — and, importantly, choices for students — will increase as big regional brands (like Nebraska) enter the online market.